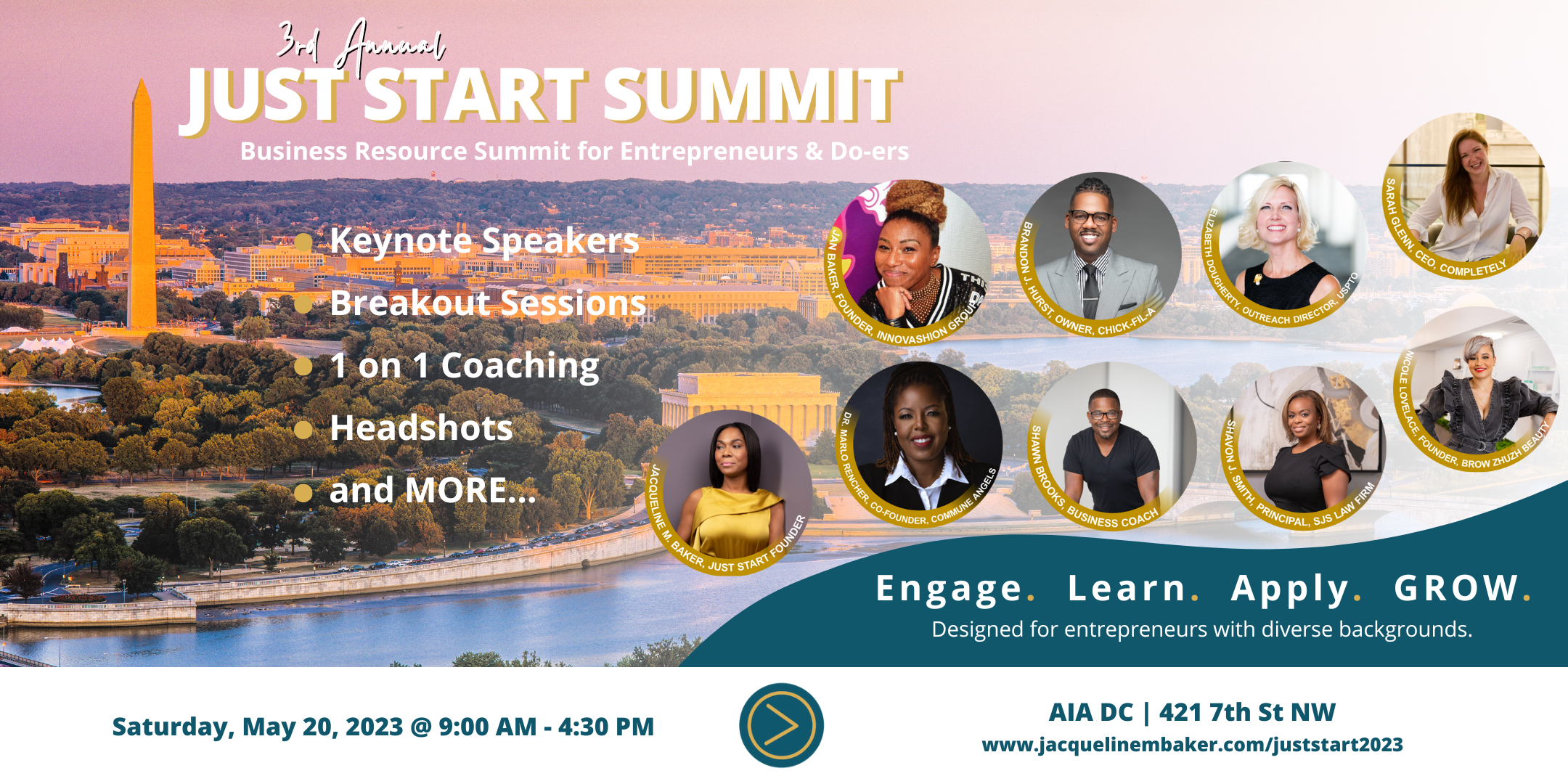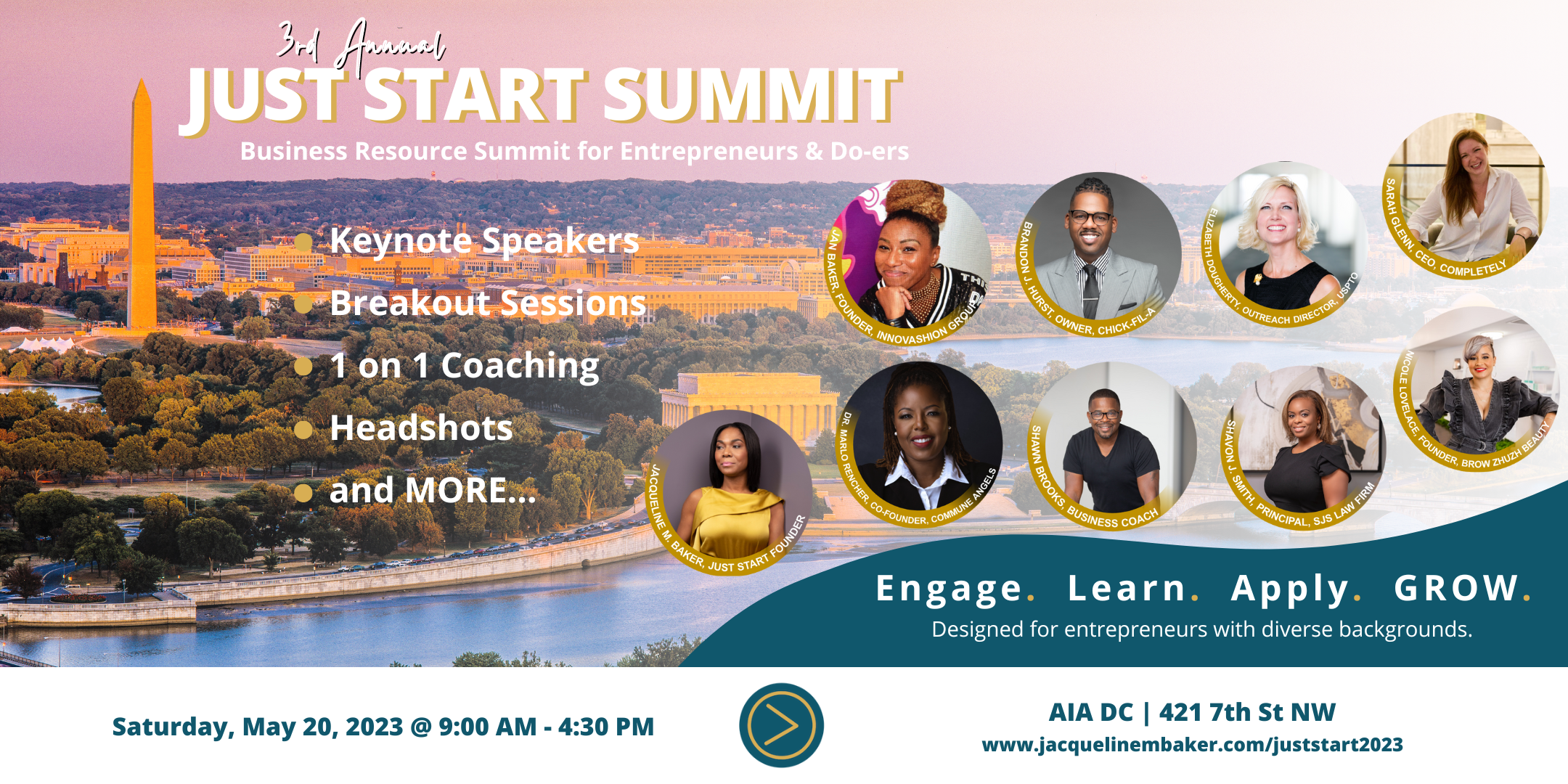 Curated by Founder, Entrepreneur and Published Author, Jacqueline M. Baker, Just Start is a unique opportunity for entrepreneurs, starters and doers with diverse backgrounds to gain valuable skills, knowledge, and resources to help them successfully start and grow their own businesses. With its focus on pitch coaching, breakout sessions, and keynote speakers on essential topics, the summit is sure to be a valuable and empowering experience for all who attend.
The theme of Just Start is to convert your PASSIONS into ACTIONS. Whether you're in need of feedback on a potential idea, legal advice on organizing your start-up, direction on resources available to your specific small business, or guidance on how to be a better leader, Just Start covers it all and more. We have incredible speakers and coaches, both locally and nationally sourced, that will speak on their own experiences, the tools they had to overcome specific challenges and what REALLY led them to success.
Join us in Washington, DC this May 20th at AIA|DC to finally Just Start.
This is your chance to press play on your passions. 
Starting anything can be quite scary and anxiety-inducing thought, which is why we have secured some of the most talented and brave "starters" who'll be on hand to share their stories, experiences, and advice. We are excited to share with you real people who have accomplished real results and aren't afraid to share their learnings with you.
Just Start Host and Founder, Jacqueline M. Baker, Welcomes You! (9:00 AM - 9:15 AM)
Jacqueline M. Baker is a speaker, author, leadership consultant and advisor known for her unique approach to modern etiquette and leadership. As the author of The Unexpected Leader: Discovering the Leader Within You and Leader by Mistake: Becoming A Leader One Mistake At A Time, she frequently speaks and writes on the leadership-for-all concept. Her inspiration and expertise comes from more than a decade as the founder and principal consultant for Scarlet, a consultancy that provides leadership training to Fortune 500 companies, small businesses, community organizations and individuals across the globe. She also leverages her experience serving in a number of corporate board and community service roles. An avid dinner-party hostess, Jacqueline creates space and opportunities to gather groups for compelling conversation, delicious cuisine and untraditional ways for continued leadership development. She is also the host of the podcast, Just Start™: From Ideas To Action.
An Open Conversation with Nicole Lovelace (9:15 AM - 10:00 AM)
Nicole got her introduction to the esthetics world while writing a spa business plan for a final exam in college. After which, she didn't give it much thought. She went on to graduate from Morgan State University and pursued what she thought would be a promising career in budget and financial management.  Although still very passionate about numbers, Nicole decided to learn more about makeup and became intrigued by the world of esthetics. She obtained her Master Esthetics license in 2006. 
Fast forward a few years, Nicole took her passion for brows and extensive background in business and opened PRMP (pronounced 'primp') Brow & Beauty Studio in 2016. Now an award-winning beauty hub, PRMP has set out to redefine the brow and body waxing experience. As a trusted esthetician and brow expert, Nicole has made a name for herself as the go-to for unsurpassable standards in precision brow shaping techniques in the DC area and beyond. Nicole trains each member of Team PRMP on a standard of excellence and attention to detail that has become known as 'the PRMP Experience'. 
With years of experience and lessons learned under her belt, Nicole has established her lane as a beauty educator, coach, and product developer with the creation of Brow Zhuzh Beauty, a brow care and cosmetics line. Most recently, Nicole opened her second location, PRMP @ Black & Forth in NE, Washington, DC. 
When she's not at PRMP, you can find Nicole trying to find the balance between healthy living and finding the best pizza in town, looking for the next flight out of town, singing loudly to 90s R&B, hanging with her daughter and husband, or binge-watching crime shows.
Business and Legal Foundations with Shavon Smith (10:15 AM - 11:00 AM)
Ms. Smith is the principal of The SJS Law Firm, PLLC where she counsels business owners, start- ups, and entrepreneurs in the District of Columbia, Maryland, and Michigan on a range of legal issues. She serves a diverse client base across multiple industry segments, including franchisees, government contractors, professional service organizations, technology, construction, and design firms, to name a few. Her clients seek her for guidance on entity formation, commercial real estate lease and acquisitions, business financing, and end-to-end contract support. Additionally, she represents and counsels her clients on a range of employment issues, including compliance, drafting non-disclosure agreements, non-compete agreements, drafting and training on employee handbooks, and dispute resolution.
Understanding More About You and Your Personality with Sarah Glenn (10:15 AM - 11:00 AM)
Sarah Glenn, CEO & Founder of Completely, cares deeply about helping you reach the life and career you deserve. She has over a decade of experience supporting over 4,300 individuals with goal setting, career, and life design, and has also supported over 175 businesses with their people resources including recruiting and staffing strategies. She has been meticulously trained through the Robbins-Madanes School of Coaching as a career and life coach and has extensive experience as a recruiter, manager, business developer, and coach.
Understanding Start-Up/Business Funding with Marlo Rencher (11:15 AM - 12:00 PM)
Dr. Marlo Rencher is an entrepreneur, anthropologist, and educator with over two decades of experience in startup and small business development. Currently, she is president of Detroit Means Business, an organization fully dedicated to stabilizing and scaling Detroit small businesses. She is a co-founder at Commune Angels, an inclusive network of angel investors. Previously she was TechTown Detroit's senior director of technology-based programs.  She has also founded or co-founded three tech startups. 
Dr. Rencher was the co-author of digital undivided's 2016 #ProjectDiane report, which provided groundbreaking insight into the funding gap for Black women tech founders. She is currently engaged in deeper research on Black women tech founders.
Dr. Rencher earned an undergraduate degree in marketing from Michigan State University, an MBA from the Ross School of Business at the University of Michigan, and a PhD in business and organizational anthropology from Wayne State University. She frequently speaks on technology entrepreneurship and inclusion and has been a presenter at TedxDetroit, Princeton University, and SXSW. Dr. Rencher was named one of Michigan's 100 Most Influential Women by Crain's Detroit Business in 2021.
The Best Marketing and Business Tools with Shawn Brooks (11:15 AM - 12:00 PM)
As a US Navy Veteran who attended Tennessee State University, Shawn brings a unique perspective to his work. He is a business coach, lifestyle organizer, productivity assassin, and serial entrepreneur who is passionate about helping others succeed.
Shawn is originally from a small town in Western Pennsylvania and has a deep understanding of the challenges that come with working for yourself. He specializes in helping entrepreneurs get unstuck, work less, and discover strategies for getting things done. He started his design company in 2004, and it has been a significant contributor to his entrepreneurial journey.
He has developed online business infrastructures for over 3,000 entrepreneurs and is the author of an Amazon best-selling book on building your brand. His ultimate goal is to help business owners build and scale their brands, and he feels more fulfilled than ever before doing so. Shawn's expertise has been honed through his own entrepreneurial ventures and work with early-stage technology companies. Shawn's clients benefit greatly from his extensive experience in website design, brand development, and photography. With a proven track record of developing effective strategies, he is able to help his clients achieve their goals, whether it's increasing brand awareness, launching a new product, or managing a crisis. His ability to think creatively and approach challenges with innovative solutions has been a key factor in his success.
Clients, peers, and industry professionals alike hold Shawn in high regard for his professionalism and integrity. He places great importance on building strong relationships with his clients, taking the time to truly understand their unique needs and objectives. His commitment to providing excellent service has resulted in long-term partnerships and repeat business from many satisfied clients.
Shawn has worked with a diverse range of clients including high-profile celebrities, public officials, and corporate businesses such as Kellogg Co., Marriott International Inc., The Seagram Company Ltd., Just Being Buffie LLC., The NAACP, and Bright Future Credit. He has also had the opportunity to work with individuals such as Dr. Beverly Scott, a member of the National Transportation Safety Board, and Darrelle Revis, NFL Cornerback and Super Bowl Champion.
Protecting Your Ideas with Elizabeth Dougherty and the USPTO (1:15 PM - 2:00 PM)
As the Eastern Regional Outreach Director for the U.S. Patent and Trademark Office (USPTO), Elizabeth Dougherty carries out the strategic direction of the Under Secretary of Commerce for Intellectual Property and Director of the USPTO, and is responsible for leading the USPTO's East Coast stakeholder engagement. Focusing on the region and actively engaging with the community, Ms. Dougherty ensures the USPTO's initiatives and programs are tailored to the region's unique ecosystem of industries and stakeholders.
Using Design Thinking To Solve Business Problems with Jan Baker (1:15 PM - 2:00 PM)
Jan Baker is the founder of The Innovashion Group and is a champion of business, tech, social innovation/impact and design. As an experience and service designer, she applies a human centered approach while utilizing technology in creating solutions for people and businesses that either solve a problem, elicit a positive emotional response, drive usage, behavior, or ambassadorship and always with a cultural relevance. She strategically advises early- stage entrepreneurs/ventures guiding them through the harrowing process of capital readiness.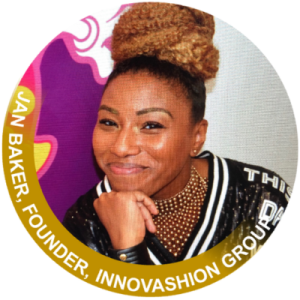 Closing Out with Brandon J. Hurst (2:45 PM - 3:45 PM)
A native of Atlanta, GA, Brandon Hurst started his Chick-fil-A career while receiving his undergraduate degree from Alabama State University. Hurst graduated magna cum laude with a degree in accounting (2010). During his tenure at ASU, Hurst participated in several student organizations including being a co-head Drum-major for the Mighty Marching Hornets band, serving as Treasure for the Beta Upsilon chapter of Alpha Phi Alpha Fraternity, Inc. and Vice-president of Membership for the Kappa Phi chapter of Alpha Kappa Psi Professional Business Fraternity, Inc.
Immediately after graduating from ASU, Hurst accepted a Director of Operations role in Chicago, IL, a new emerging market for the Chick-fil-A brand. Hurst completed his MBA (finance) in 2012 and joined Chick-fil-A's Leadership Development Program in Atlanta, GA, where he was responsible for partnering with other franchise owners across the United States to launch successful franchises. Having garnered so much experience and exposure from the quick-service restaurant industry, Hurst decided to pursue his own entrepreneurial endeavors. In October of 2014, Hurst, at the age of 26, was selected to become a Chick-fil-A franchise owner, opening his first location in Baltimore, Maryland (the city's first downtown location) in April of 2015. Today, Brandon is the owner of the first Chick-fil-A in Brooklyn, NY located right across from the Barclay's Center.
With over 12 years of experience in the hospitality and restaurant industry, Hurst is passionate about serving others, not only in the restaurant, but also within the community. He's been the recipient of numerous awards including the Martin Luther King, Jr. award for outstanding community service, Baltimore Sun's Top Workplace for 2015, Alpha Phi Alpha Fraternity, Inc's Outstanding Entrepreneur Spirit Award, and WETATi's Entrepreneurial Trailblazer Award. He travels across the country speaking at local colleges and universities, business conferences, and other community organizations, often sharing his life journey and the importance of focusing on community service, advancement of youth education, financial responsibility, and building tomorrow's leaders.

This will NOT be a feel good, "empowerment" summit where you get a lot of substance free quotes and anecdotes, with no real action lan or recommendations on how to get things done...
Here's what to expect from Just Start 2023: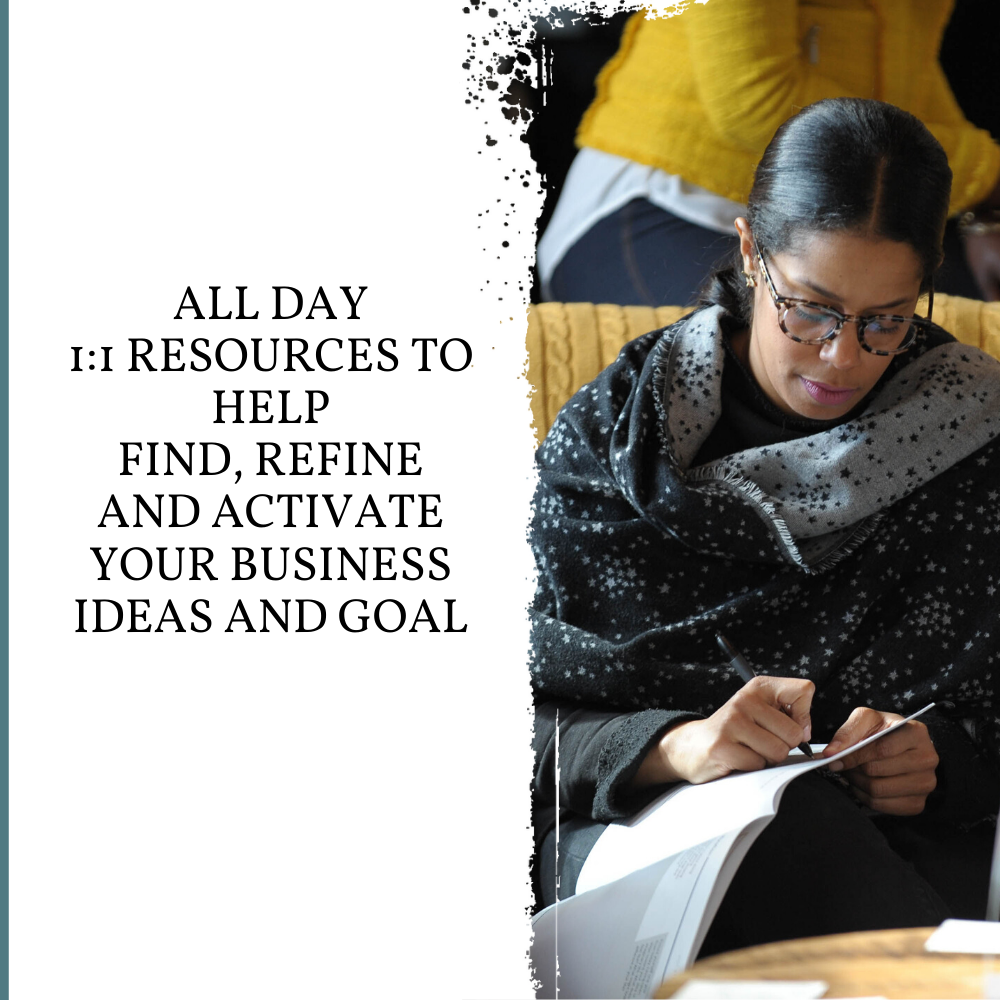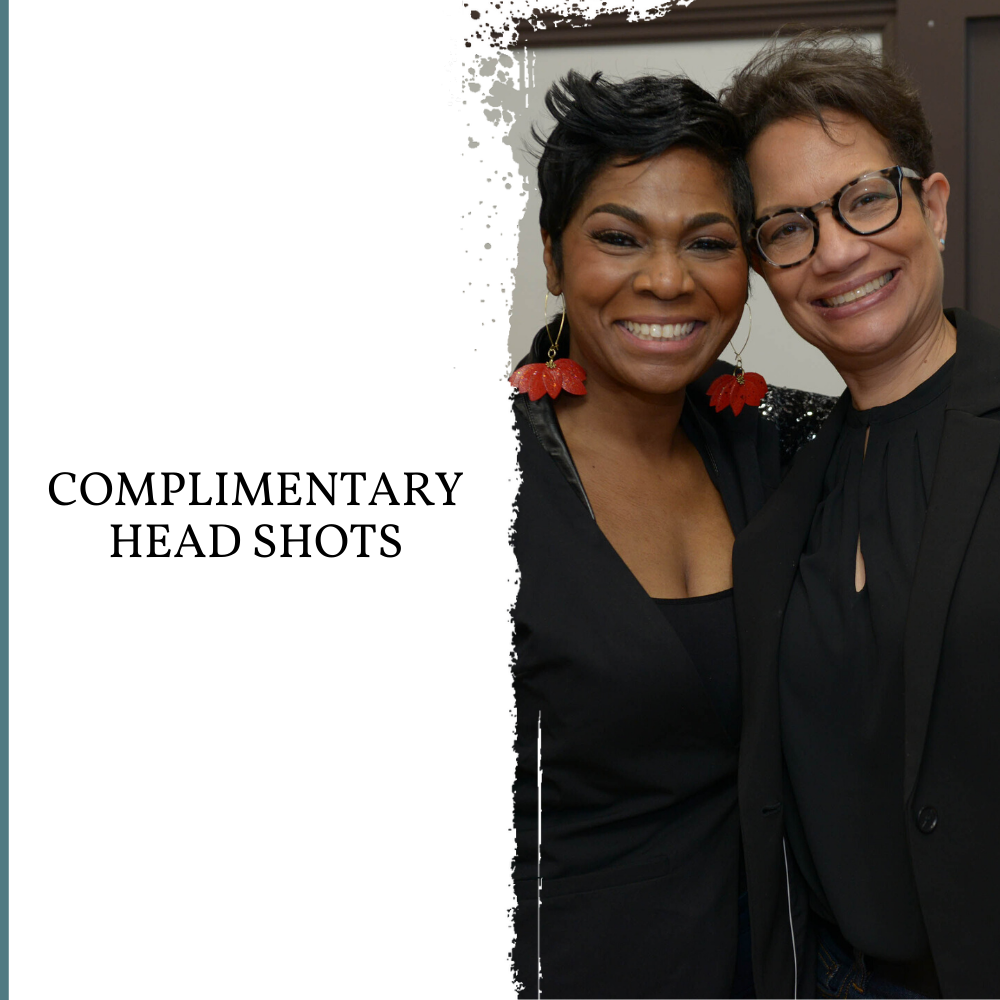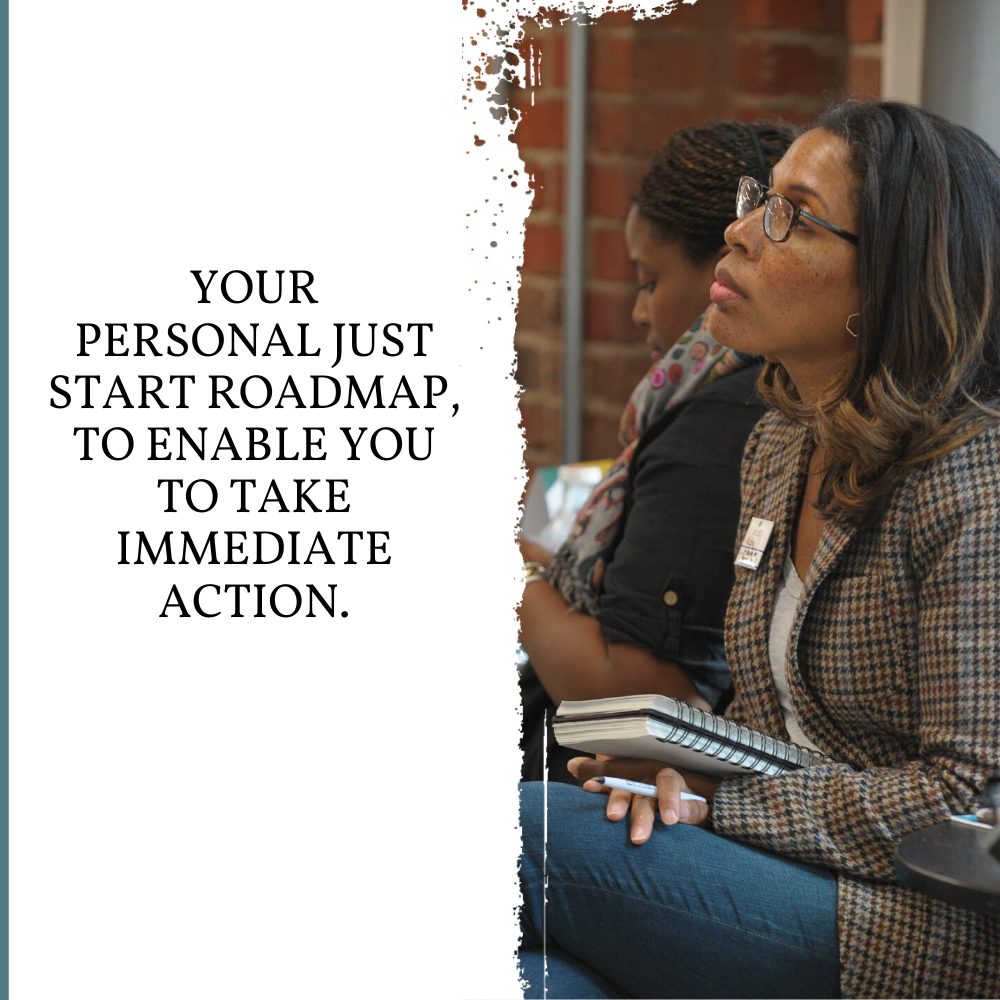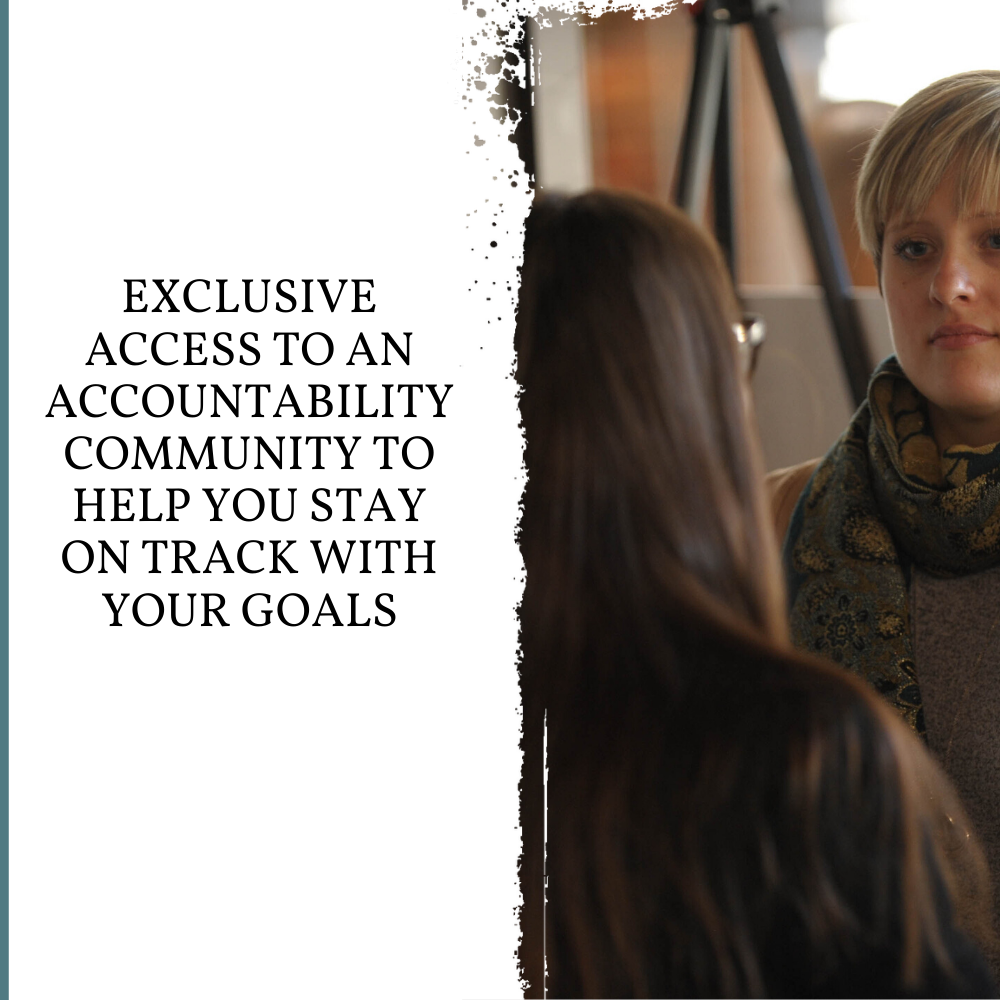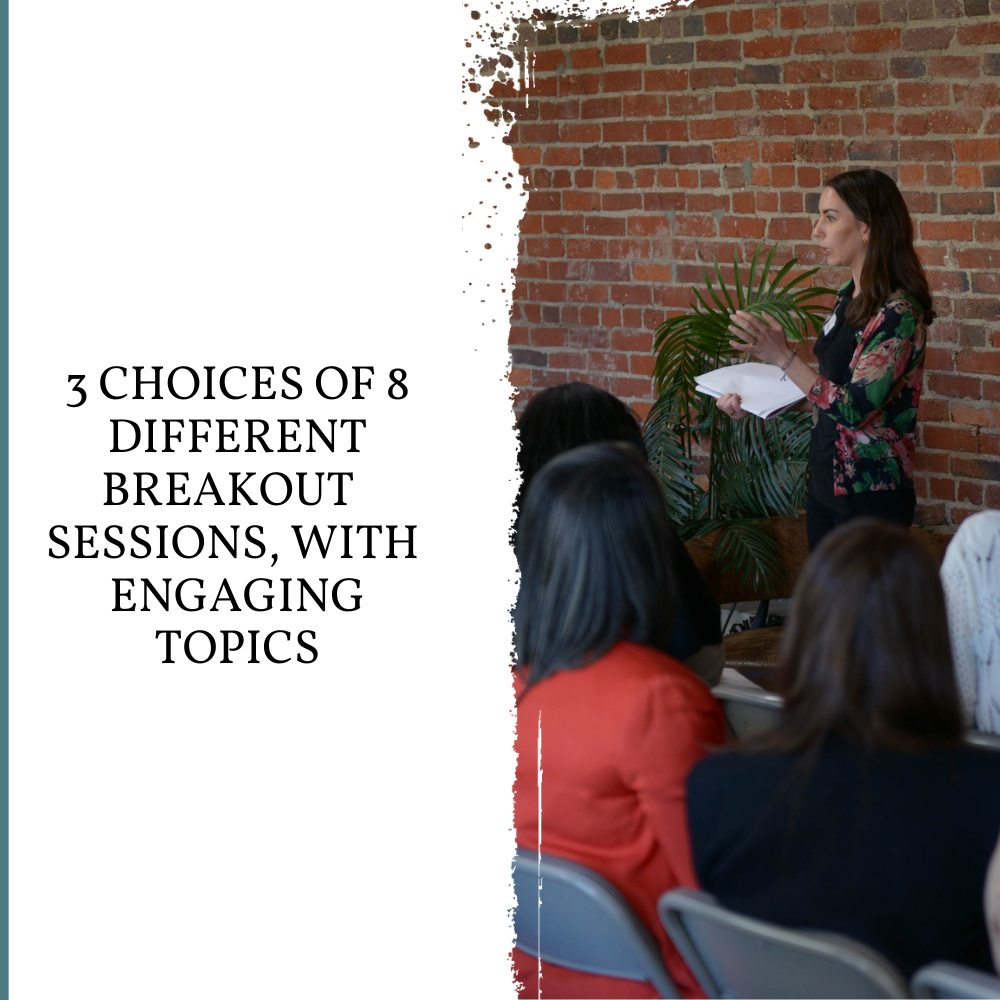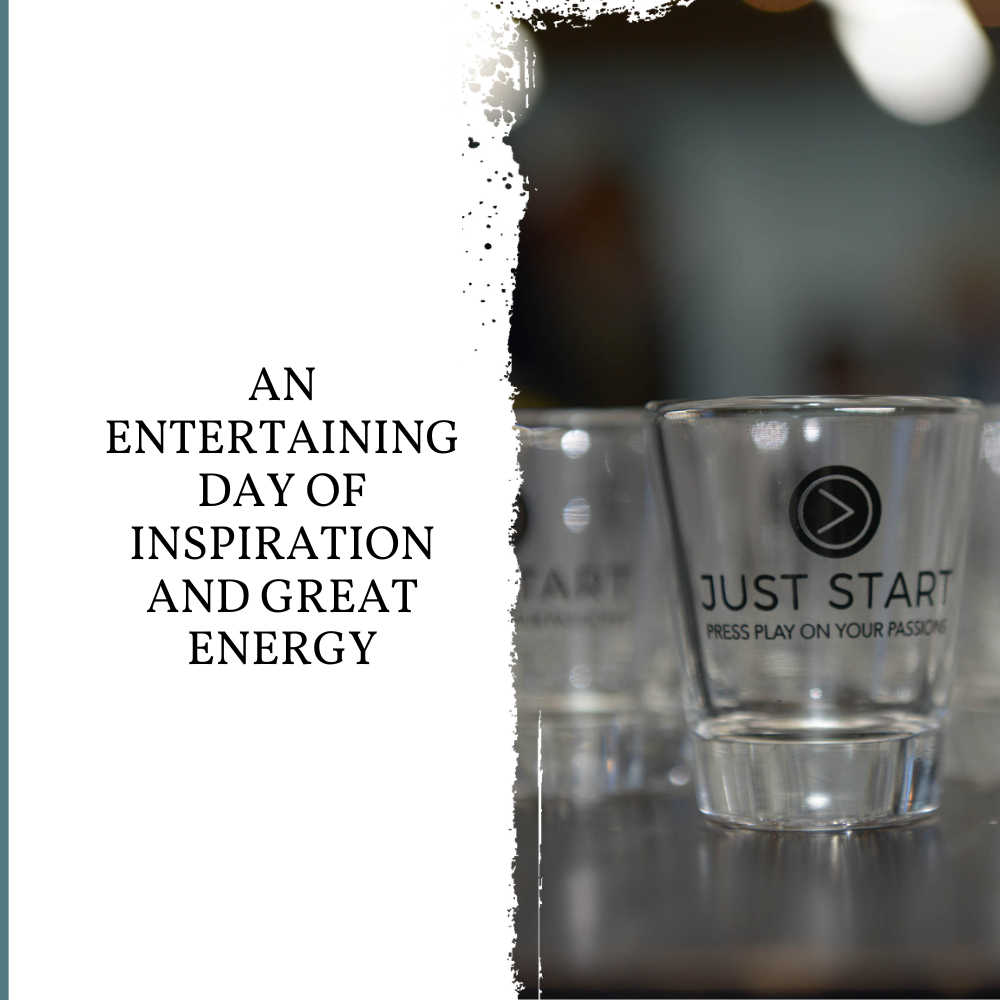 Interested in becoming a Just Start Sponsor? Get in touch with us below!
Interested in a Just Start Summit Scholarship? Enter Your Details Below!